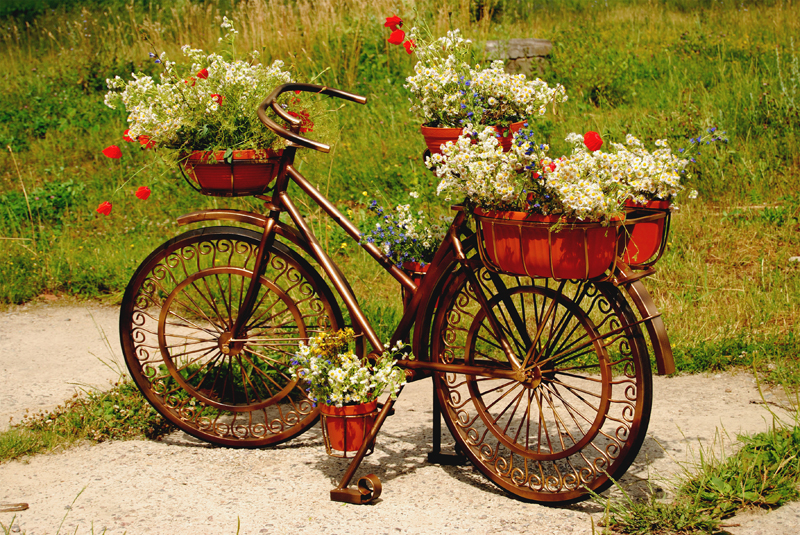 Nasturtiums are nice, and easy to grow and edible and pretty and colourful and they don't make a fuss … so with all those qualities and more – why not grow some in your containers? They climb, hang over, you can use them for 'ground' cover or just let them sit there being bejewelled. Nasturtiums will make you feel good for sure.

Growing Nasturtiums:
Nasturtiums are prolific growers and because they are self-seeding and actually do well without too much care, you often find them in the wild where they look as nice as if they were to be nearer you in a spare container or two. They come in nearly yellow-white to yellows to orangey reds to claret reds … and these colours against the lily-pad style round clear green leaves make a splendid show.

I saw a charming idea the other day when driving around in a new suburb (container and garden-spotting!) The house-owner had a sunny patio (which could be seen as a balcony) and she had two Alibaba pots on either side of a garden archway from which burst nasturtiums taking on all three jobs of filling, thrilling and spilling as they climbed in a profusion of multi-coloured blooms over this archway leading to her garden … full of containers by the way. I assume she had planted Tropaeolum majus which is the better variety for trailing and climbing, rather than the other Tropaeolum minus which better suits bushy pots.

They can also be planted in hanging pots and baskets on high or window and balcony boxes

Nasturtiums need sunshine and light though they can also grow in sunny-shady areas. At times they may not cope with direct midday 'desert-sun' and will need protection … but for the most part they love the sunshine.

They grow well in 'poor' soil and are likely not to flower in rich compost or fertilised ground. They grow where other plants don't like to grow – so try them if you have an area that doesn't seem to suit anything else. What's more, at the end of summer, if you can spare the container, allow the plant to die back and rot into the soil and as it decomposes it will add minerals like calcium, potassium, nitrogen. It will be a natural soil enhancer.

They grow from pea-size dried seeds that are best planted straight into the pot/ground (2"/5 cms). This plant is not frost hardy so don't plant it too early (or late whichever side of the season you are looking at). They don't need much water, will die with wet feet and do well enough on a cuppa water weekly.

What can you do with Nasturtiums? They are edible.

The leaves, seeds and flowers are edible and there is quite lot you can do. They are high in vitamin C, and are the highest plant source of the anti-oxidant lutein. Add the flowers to your salads, decorate cupcakes, fill the flowers with garlic cream cheese and deep fry them if you want to go to heaven for a mouthful, use the flowers to flavour vinegar or make jam. The peppery leaves can be used to make dolmades (in place of grape leaves), make pesto (instead of basil) or just added to salads for a kick. Finally, the seeds/pods harvested in spring and summer can be pickled (***see recipe below) and can be used as you would capers.

WATCHPOINT!
If you are pregnant, avoid eating nasturtiums entirely. Besides this, if you have any kidney disease or difficulties with your kidneys then seek professional advice before eating nasturtiums – or just avoid them altogether to be on the safe side.

Nasturtiums have medicinal properties.
Nasturtiums also have medicinal properties. Like calendula, a nasturtium plant is a disinfectant and wound healing herb. You can make an infusion with all parts (flowers seeds and leaves) which will give you an antibiotic, antibacterial, antimicrobial, and anti-fungal wash. They say it is good as a hair, scalp and skin rinse, good for foot fungus and athlete's foot and may also offer a remedy for coughs and other respiratory problems. Remember though – this is a gardening article so CHECK with you healthcare advisor if you intend to use nasturtiums for health reasons.

Nasturtiums are good garden companions.
They attract aphids and cabbage moths and deter these pests from attacking your vegetable containers (broccoli and cabbage). If you find aphids or cabbage moths on your nasturtiums, say thanks and remove them with warm water. Their scent repels and confuses other pests too.

Nasturtiums also attract bees and other pollinators to your garden so planting them in your containers can help save these busy insects, provide food for them and help the human survival and food chain. Such a great result from such a simple and easy and pleasurable action.

Nasturtiums are gorgeous. They are helpful companion plants that provide a colour-splash like little else. They are useful and beneficial pollinators, have medicinal and pesticidal properties, are edible and can be grown inside or outside … a formidable list of positive properties for any plant. And when all is said and done, beginner container gardeners will love them!

So much more can be said about this fine plant – but hopefully this is enough to get you interested and planting.

What do you want your container garden to do?

***Pickled Nasturtium Seeds Recipe
Sterilise an 8oz glass bottle and add a cup of cleaned and rinsed nasturtium seedpods, green not fried ones. Add 2 plus sprigs of fresh dill to the jar. Bring to the boil 1/3 cup cider or white grape vinegar, 1/3 cup water and 1 ½ to 2 teaspoons each of salt and sugar (or to taste). Allow the boiled liquid to cool for a few minutes then pour this pickling mix over the seeds. Seal the jar and allow it to rest for around 5-7 days in a dark cool place (not the fridge). One opened, use within 8 days. If you are trying this recipe for the first time, go with these measurements for the ingredients, but it will become a personal recipe as you go, so adjust amounts used to taste. They are delicious with all sorts of things, but especially cheese and cold cuts.

You Should Also Read:
Attracting Bees and Pollinators
Window Boxes
Climbers in Containers


Related Articles
Editor's Picks Articles
Top Ten Articles
Previous Features
Site Map





Content copyright © 2022 by Lestie Mulholland. All rights reserved.
This content was written by Lestie Mulholland. If you wish to use this content in any manner, you need written permission. Contact Lestie Mulholland for details.