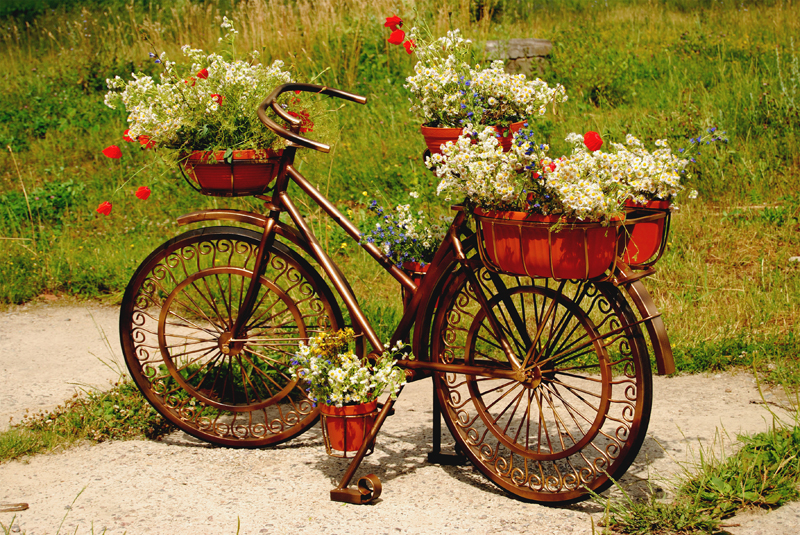 ABC´s of gardening for all from novice to seasoned gardeners. Advice on Pruning; Propagating; Container preparation; avoiding Common mistakes; learning new ways with plants like topiary.
Companion Planting for Containers


The role of plants can be a complicated one ... not for the plants ... but for us to find out about and use to our advantage. There are some plants that nurture, others are martyrs or mask plants and yet others attract beneficial goggas to our gardening spaces. What does what? What goes with what?
Container Care and Cleanups


The daily 'fruits' of our labours from our containers are a pleasure when we realise they are there for the taking in exchange for our gardening efforts! Only one container to care for? No matter, a deck garden clean up is a must! Maybe you'll find these tips and timely reminders useful.
Espalier - How to Trellis a Tree


Do you have a sunny wall perfect for fruit but too narrow for a tree? Do you have an unsightly garden area you would like to beautify? Then espalier a tree! Espalier is the art of training a shrub or tree to be flat against a surface, and can be the perfect solution for a narrow area.
Killing your Plants Part One


Much can go wrong in the garden and while some of it may be out of our hands, when it's up to us, well then … it's up to us! So, refresh your memories about the things that can go wrong, go wrong, go wrong … and improve your plant to non-plant ratios. This three part series of articles may help.
Killing your Plants Part Three


We seem to keep making mistakes, often unknowingly, that lea t poor container gardeining actions and dead or dying plants. It's easy to avoid these, and if you have read parts one and two of this series, then you've seen how to change if you need to. Temperature? Roots? Fertilisers? Neglect? Phew!
Killing your Plants Part Two


Mistakes and lapses of action happen but it's nice to know better. Maybe you're making container mistakes when you do not mean to - and perhaps these tips an notes will help you mend and change any bad habits or misconceptions. If you are not guilty - great news! Read Part One and Three as well.
NOVEMBER 2011 Moon Gardening Guide


Gardening by the Moon ... here is the daily 'TO DO' list for NOVEMBER 2011 for those who have started it. It will remain up as a featured article on the container gardening site until around 9th November and then it will go to the Container Gardening Forum to join those of previous months.
Planning Your Container Garden


What do you want your container garden to do? What kind of gardener will you be? Frustrated because you need a plan and some ideas to get you going? Not sure how to start a container garden? Stalled and need to start again? This article will help you answer these questions with a self survey.
Propagation From Cuttings


Propagation from cuttings is an excellent way to increase your garden, to winter over delicate perennials, or grow your own living gifts for giving over the holidays. Cutting propagation is simple to do with many plants. Here are the tips you need to start your own mini-nursery!
Savvy Gardening - Save Seeds


Seeds of success in our lives depend on savvy habits and so too with gardening – so do you save seeds from season to season or do you go for seedlings? Saving seeds saves your favourites and could be the start of a heritage collection; it's thrifty gardening too so start seeding!
Training a Standard


A standard, a shrub or vine which has been pruned to grow on a single, upright trunk, can be a beautiful addition to your container garden. Several type of bushes and vines lend themselves quite well to being trained as a standard, and it is quite easy to do. Here is what you´ll need to know.
Watering Watchpoints for Plants


Too much water and your plants will die … too little and your plants could die, a surface watering that starves the roots and your plants may die … for some plants having wet feet is fine, for others less is certainly more! How much is too much or too little or not enough? These tips will help.
Waterwise Olla Pots


The use of Ollas (buried clay pots) for irrigation was documented some 2000 years ago... and it seems we are just beginning to realize just how smart this method of gardening is. Plants respond well, water is conserved, gardens thrive and people can balance a busy life with little fuss containers.
Editor's Picks Articles
Top Ten Articles
Previous Features
Site Map
Content copyright © 2018 by . All rights reserved.
This content was written by . If you wish to use this content in any manner, you need written permission.
Contact Lestie Mulholland for details.